Sfjazz Collective at Mondavi Center for the Performing Arts
Where
When
Wed, October 17, 2018
7:00 pm
About
An all-star ensemble comprising eight of the finest performer/composers at work in jazz today, the SFJAZZ Collective's mission each year is to perform fresh arrangements of works by a modern master—and newly commissioned pieces by each Collective member. The challenge this year? Picking only eight songs from the massive catalog of bossa nova master Antônio Carlos Jobim, which includes the smash hits "The Girl from Ipanema," "Desafinado" and "Corcovado." Whatever the repertoire, one thing is certain: The SFJAZZ Collective packs intelligence, humor, virtuosity and emotion into every performance....
Mondavi Center uploaded this event on August 28, 2018
Start your ticket shopping from Jazz Near You and you'll support us in the process. Learn how.
SFJAZZ Collective
Live 2010: 7th Annual Concert...

Album Reviews
Interviews
Live Reviews
Extended Analysis
Live Reviews
Extended Analysis
Album Reviews
Live Reviews
Album Reviews
Live Reviews
Album Reviews
Film Reviews
Album Reviews
Read more articles
SFJAZZ
2017
buy
SFJAZZ
2013
buy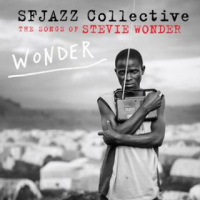 SFJAZZ
2012
buy
SFJAZZ
2011
buy
SFJAZZ
2010
buy